Modisch eher Nordisch
Wie funktioniert Zürich in Sachen Mode? Philipp Junker, einer unserer Stylisten der aktuellen Ausgabe des Qvest Magazins, muss es wissen. Und gibt nebenbei Einblicke in sein Zürcher Apartment.
Philipp Junker
(*1980), Sohn eines deutschen Einwanderers, ist "der beste und gefragteste Modestylist in der Schweiz" (tagesanzeiger). Der gelernte Schneider arbeitet für große Schweizer Marken wie Grieder oder Globus und realisiert Editorials für 'Annabelle' oder das 'Z-Magazin', daneben ist er Teilhaber des Schmucklabels Studio Mason. Junker sammelt Looks von Dries van Noten und Prada und liebt Serien – dazu zählt er auch 'Sex and the City'.
Philipp Junkers Lieblings- Designklassiker aus der Bauhaus- MidCentury-Ära:
Interview
QVEST: Philipp, Du arbeitest in Sachen Mode der ganzen Welt, warum lebst Du eigentlich noch in Zürich?
Junker: (lacht) Gute Frage, das überdenke ich immer wieder, und dann weiß ich wieder: Weil ich nicht loslassen will. Ich lebe seit 15 Jahren in einer Stadt, die mir sehr viel bietet und mit den Menschen, die mir wichtig sind. Ich reise zwar sehr gerne und habe oft die Möglichkeit dazu, aber woanders zu leben, war nie eine ernsthafte Überlegung.
Was bietet die Stadt denn, modetechnisch?
Zürich ist für die Größe eine tolle Modestadt, die vor allem zum Shopping viel bietet. Auch Schmuck und Accessoires sind ein Markt, der hervorragend funktioniert. Wenn ich mit großen Marken arbeite, merke ich, dass diese immer sehr angetan sind von Zürich; ihre Stores in der Bahnhofstraße und Umgebung funktionieren offenbar sehr gut. Auch die Schweizer Medien werden gerne unterstützt, obwohl sie meistens nur eine kleine Auflage haben.
Du hast schon für große Schweizer Kaufhäuser gearbeitet – welchen Stil zwischen 'Lokal' und 'Global' willst Du den Zürchern kommunizieren?
Da unterscheidet sich schon der französische Genfer Stil vom italophilen, nach Mailand ausgerichteten Süden der Schweiz. Ich denke, Zürich ist eine Stadt, die man mit Hamburg vergleichen kann. Wir sind schon eher nordisch ausgerichtet.
Es gibt diese männliche Zürcher Erscheinung, die grundsätzlich in Anzügen steckt, aber kariertes Hemd mit Einstecktuch oder Hemdkragen und Socken farblich kombiniert, oder in Hochwasserhosen barfuß in Budapestern – sprich Bänker, die locker daherkommen wollen ...
Gibt's schon, oder diese Schwemme an Barbershops, wo Männer alle zwei Wochen für 80 Franken ihren Bart stutzen lassen. Was ich damit sagen möchte: Man ist bereit, Geld auszugeben. Es gibt eben viele Zürcher, die sich das leisten können, und es werden immer mehr, auch junge Leute.
Welchen lokalen Touch geben Zürcher dann dazu?
Viele Stile sind Einflüsse von außerhalb, weil Zürcher am Wochenende sehr viel in andere Metropolen reisen, nach Paris, Stockholm, London, Kopenhagen, und dann mit ihren neuen Vorstellungen zurückkehren. So kommen diese Trends schnell nach Zürich wie es in die Schweiz passt. Ich war gerade in New York, wo man Sachen sieht, die man in Zürich nie sehen würde. Man will mit seinem Outfit grundsätzlich zwar ein Statement machen, aber auch nicht auffallen. Man geht gerne auf Nummer Sicher und kauft sich lieber ein Paar Schuhe oder eine Tasche, die man schon mal an jemand Anderem gesehen hat als etwas, das einen einzigartig macht.
Welcher Dress Code dominiert denn im Allgemeinen in Zürich?
Zürich ist nicht München und nicht Düsseldorf; das fällt mir sofort auf, wenn ich dort bin. Viele junge Leute sind eher wie in Berlin; man will nicht zu herausgeputzt aussehen, wobei es natürlich auch viele 'Rich Kids' in Zürich gibt, 18-Jährige, die mit Chanel- oder Céline-Bags herumlaufen, und Outfits, die unter Umständen 5.000 Franken kosten.
Wenn Du in die Oper gehst: Stiefeletten oder Turnschuhe?
Ich würde jetzt nicht Lackschuhe anziehen, Anzug und Turnschuhe gingen auch, aber es ist schön, Leute zu sehen, die sich Mühe geben, vor allem der älteren Generation. Man geht vielleicht nicht mehr im Abendkleid ins Ballett, aber gepflegt.
Geht auch eine 1000 Franken-Jeans im Shabby Look?
Das geht wirklich nicht. Ein Besuch in der Oper kostet rund 200 Franken; da trifft man meist auf ein kultiviertes Publikum aller Altersgruppen, die sich auch dem Event entsprechend anzuziehen wissen.
»Zürich ist nicht Düsseldorf und nicht München; junge Leute ziehen sich eher an wie in Berlin.«
Und im Club, was zieht man da an?
Da geben die Leute schon Gas, das würde ich eher mit Berlin vergleichen. Es kommt auch ein bisschen auf den Club an; mehr dieses Undergroundige. Oder die schicken Clubs, wo alle mehr 'posh' auftreten; 'Kaufleuten' ist ein Club, wo man hingeht, um gesehen zu werden, die jungen hübschen Mädchen in den kurzen Kleidern – während anderswo die coolen Mädchen hingehen, wo wir die zerrissenen Hosen antreffen, allerdings nicht von Balmain ...
Ist Dieter Meier ein Prototyp des Zürcher Stils?
Nein das denke ich nicht, aber ich mag ihn. Ich kenne auch seine Kinder, die bei der (von der Mutter gegründeten) Marke 'EnSoie' arbeiten. Eine tolle, kultivierte und fleißige Familie.
Schon mal Tina Turner getroffen?
Einmal im Jahr sieht man sie im Schnitt, zum Beispiel in der Bahnhofsstraße beim Einkaufen. Vielleicht nicht gerade allein, aber trotzdem nicht unnahbar – und andererseits wird sie auch nicht belästigt. Das macht Zürich aus, dass auch Stars sehr easy in der Stadt herumlaufen können. Ich glaube, es gibt noch nicht einmal Schweizer Paparazzi.
Womit macht man sich in Zürich lächerlich?
Wenn man zu sehr zeigt, was man hat, ist das etwas schwierig. Das kommt schlecht an bei den Schweizern: Das gilt für das Einkommen, die goldene Uhr wie auch für das Auto, die Villa, die Yacht und das Landhaus. Man ist sehr auf Understatement bedacht.
Philipp, danke für das Gespräch.
Tipps von Philipp Junker
Von wo sieht Zürich am schönsten aus?
Am schönsten finde ich Zürich vom See aus, wenn man zum Beispiel beim Eindunkeln auf einem Boot in die Stadt fährt … oder im Sommer auf einem Badi-Floß sitzt.
Ihr Lieblings-Frühstücks & -Mittagstischbistro, -Restaurants, Lieblingsbar/ Club?
Sprüngli am Paradeplatz, der Klassiker für Frühstück/Lunch, Porridge mit frisch gepresstem Saft oder Shakes in der 'Juicery 21', das 'Terrasse' zum Weekend Brunch, 'Talacker' und 'Die Bank' zum Lunch, 'Kaufleuten' und 'Kronenhalle Bar' zum Apéro, das 'Razzia' zum Dinner, oder auch den 'Palestine Grill', ein angesagter Outdoor-Grill an der Langstraße.
Eine heimliche Touristenattraktion, die nicht ausführlich im Reiseführer gelobt wird?
Der Park des Museums Rietberg ... eine grüne Oase der Ruhe, mitten im Zentrum.
Was schätzen Sie an Zürich besonders?
Die überschaubare Größe, den See - und dass die öffentlichen Verkehrsmittel verlässlich und sauber sind!
Ihre favorisierten Shopping-Adressen, Vintage-Shops, Geheimtipps?
Fidelio, Soeder, sowie die Boutique Vestibule, wo auch unser Studio Mason Schmuck erhältlich ist.
Wo findet man mitten in Zürich seine Ruhe?
Im botanischen Garten, auf dem Lindenhof oder im Innenhof der "Milchbar" hinter dem Paradeplatz – ideal, um kurz im Zentrum in Ruhe einen guten Capuccino zu trinken.
Wenn man nicht in Zürich ist – wo, bei welcher Gelegenheit, bei welchem Duft oder sonst einem Erlebnis fühlt man sich an Zürich erinnert?
Im New Yorker 'Café Select' gibt es Speisen und Getränke, die man typisch in Zürcher Lokalen konsumiert - der Wirt stammt aus Zürich. Für 'New Yorker Schwiizer' der perfekte Zufluchtsort bei Heimweh!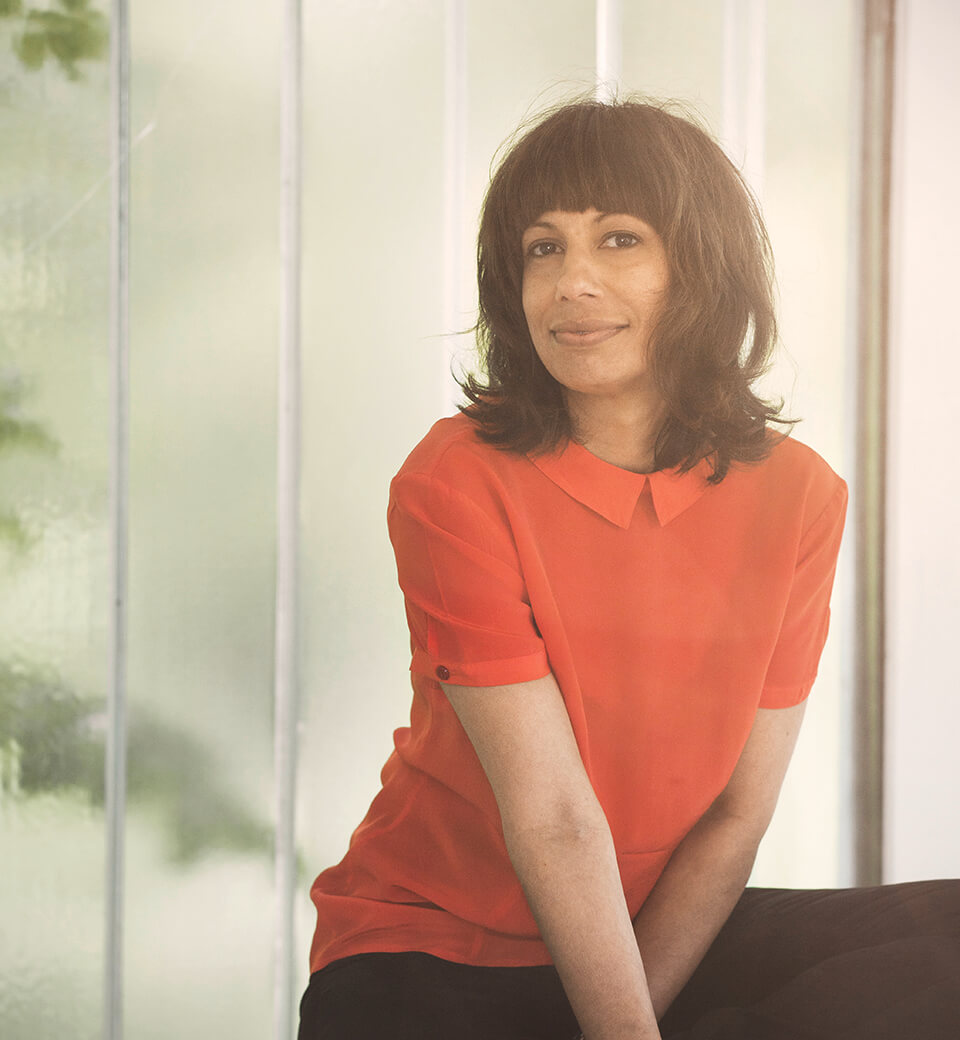 Die Haus-Fotografin Rita Palanikumar
"Für mich als Fotografin müssen Räume groß sein, luftig. Ich mag es, wenn Dinge herumliegen, denn diese erzählen mir Geschichten von den Menschen, die in diesen Räumen leben": Es spricht von einer Leidenschaft, die in direkter Verbindung steht mit den Leidenschaften der Portraitierten. Die Tochter einer Norwegerin und eines Inders studierte Fotografie an der Ecole D'Arts Supérieure in Vevey. Sie ist Mitbegründerin der Fotografenagentur '13 Photo'. Rita Palanikumars Arbeiten erhielten schon mehrere Auszeichnungen.